When it comes to timepieces, bangle watches effortlessly blend fashion and functionality. These stylish wrist watches have gained immense popularity among both women and men due to their unique design and versatility. In this article, we will explore the world of bangle watches, highlighting their distinct features, variations and how you can effortlessly style them to elevate your overall look.
The Beauty of Bangle Watches
Bangle watches are characterized by their sleek and minimalist design, featuring a thin metal band that encircles the wrist. Unlike traditional watches with a standard strap or bracelet, these stand out with their open-ended cuff-like shape. This distinctive design creates a striking balance between sophistication and modernity, making them an ideal accessory for various occasions.
Different Types of Bangle Watches
Bangle watches come in a range of different styles and designs. If you're wondering what type fits you best, here are a few options you can consider checking out:
Classic Watches
Gem-Embellished Bangle Style Watch
Two-Tone Bangle Watch
Leather-Strap Watch
Classic Watch
Classic bangle watches feature a simple, unadorned metal band, often crafted from stainless steel, gold, or silver. They exude elegance and can be worn both casually and formally. Classic bangle watches are a timeless choice that complements any outfit, making them a staple in every watch collection.
Gem-Embellished Bangle Style Watch
For those seeking a touch of glamor, gem-embellished bangle style watches are a perfect choice. These watches feature sparkling diamonds, gemstones, or crystals encrusted on the dial, bezel, or band, adding a touch of luxury and opulence to your wrist. The watches are ideal for special occasions or when you want to make a statement. The history of bracelets and bangles is exciting, with many gem-embellished varieties making an appearance every now and then.
Two-Tone Bangle Watch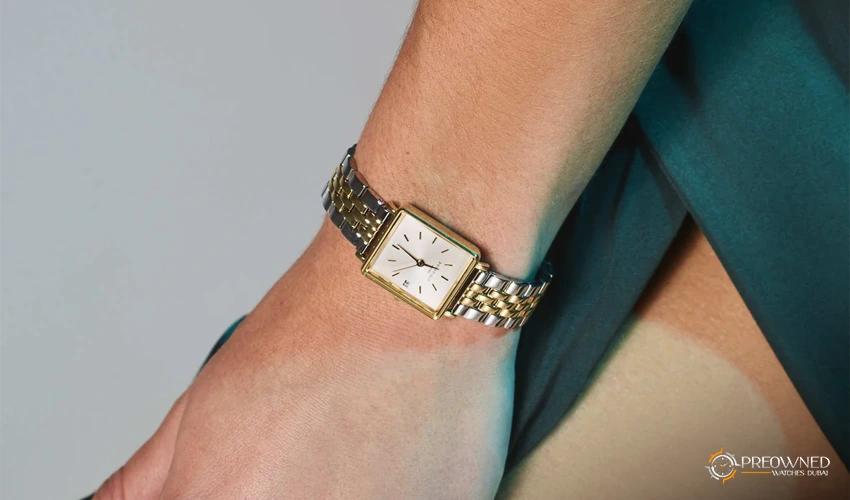 Two-tone bangle watches combine the beauty of two different metals, such as gold and silver, into a single timepiece. This creates a versatile accessory that can effortlessly match both gold and silver jewelry, allowing you to mix and match with ease. Two-tone bangle watches offer a sophisticated and modern look suitable for any ensemble.
Leather-Strap Watch
For a fusion of elegance and comfort, leather-strap bangle watches are a stylish choice. These watches combine a metal bangle with a leather strap, offering a chic and contemporary aesthetic. The leather strap adds a soft and tactile element to the overall design, making it perfect for everyday wear or a casual outing.
Styling Bangle Watches to Look Stunning
Bangle watches are easy to style thanks to their unique design that can easily complement other jewelry and ornaments. You can pair it with your favorite summer dress or your casual sweats, depending on the vibe you're going for. Here are a few of the fun styles you can choose from:
Casual Chic
Pair a classic stainless steel or leather-strap bangle watch with a crisp white shirt, a pair of jeans, and ballet flats for a casual yet sophisticated look. This combination effortlessly adds a touch of refinement to your everyday style. You can further enhance the ensemble with a few delicate silver or gold bangles on the opposite wrist.
Elegant Evening
Enhance your evening attire by wearing a gem-embellished bangle watch with a little black dress. Let the sparkling stones on your watch dial complement your outfit, creating a stunning ensemble that exudes glamor and class. Complete the look with a pair of diamond stud earrings and a matching pendant necklace.
Professional Charm
Add a touch of professionalism to your business attire by pairing a sleek gold bangle watch with a tailored suit or blouse. This sophisticated accessory will not only keep you punctual but also elevate your overall appearance in the workplace. To further enhance the look, consider wearing a dainty gold or silver bangle on the same wrist. You can check out pre-owned watches in Dubai and other popular watch markets to find a gold bangle watch of your liking.
Bohemian Vibes
Embrace your free-spirited side by pairing a two-tone bangle watch with a flowing maxi dress, a wide-brimmed hat, and statement jewelry. The contrasting metals on your watch will add a unique and eye-catching element to your bohemian-inspired ensemble. Complete the look with stacked bracelets and rings that complement the two-tone design of your watch.
Sporty and Active
Bangle watches can also be incorporated into sporty and active outfits for a touch of functional style. Opt for a watch with a durable and water-resistant design, such as one with a silicone or rubber strap. Pair it with your favorite athletic wear, whether it's leggings and a tank top for a workout session or shorts and a sports jersey for a casual day out.
A Watch for Every Occasion and Style
Bangle watches offer a perfect blend of style, versatility, and functionality. Their distinctive design and various variations make them suitable for any occasion, from casual outings to formal events. By understanding the different types of bangle watches and exploring various styling options, you can effortlessly elevate your fashion game and make a statement with these timeless accessories.
Invest in a bangle watch today, and let your wrist be adorned with elegance and sophistication. Whether you choose a classic bangle watch, a gem-embellished piece, a two-tone design, or a leather-strap variation, you are sure to find a bangle watch that suits your personal style and enhances your overall look.