Luxury watches have always been a symbol of prestige and style, but they often come with a hefty price tag. Fortunately, there's a growing market for entry level luxury watches that offer the perfect balance of elegance and affordability. In this article, we'll explore the top 10 entry level watches that cater to watch enthusiasts on a budget.
10 Best Entry Level Luxury Watches
Luxury watches are crafted with meticulous attention to detail, boast impressive mechanical movements, and are designed by renowned watchmakers. From Rolex to Vacheron Constantin, there is a range of luxury watch brands that design affordable timepieces. If you're ready to elevate your wrist game without breaking the bank, let's dive into the world of affordable luxury watches.
Omega Seamaster Aqua Terra
Rolex Oyster Perpetual
Patek Philippe Calatrava
Jaeger-LeCoultre Master Control Date
Audemars Piguet Royal Oak Selfwinding
IWC Portugieser Automatic
Vacheron Constantin Fiftysix Self-Winding
Cartier Tank Solo
Blancpain Fifty Fathoms Bathyscaphe
Breguet Classique
Omega Seamaster Aqua Terra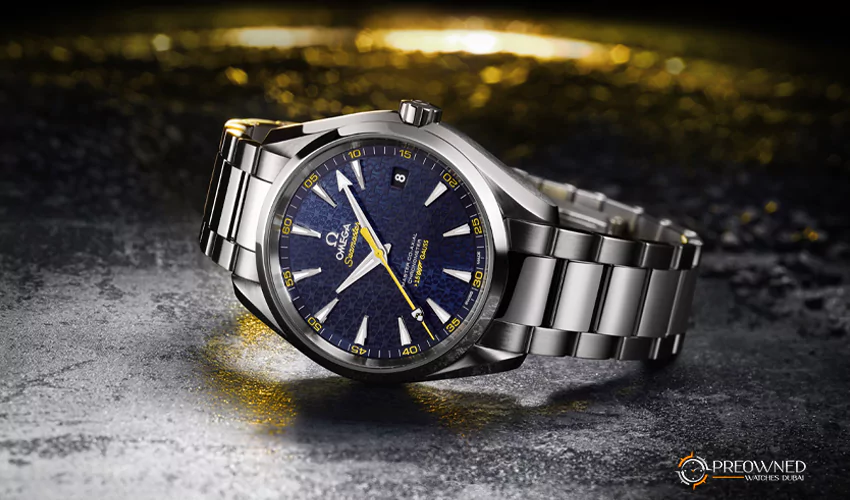 The Omega Seamaster Aqua Terra is a striking blend of sportiness and luxury. With its iconic teak-patterned dial, Co-Axial Master Chronometer movement, and water resistance of 150 meters, this timepiece is a perfect companion for both formal occasions and outdoor adventures.
The Aqua Terra is a testament to Omega's craftsmanship and heritage, and it comes in a range of styles and designs as well. If you're looking to get yourself an Omega, this is the model for you.
Rolex Oyster Perpetual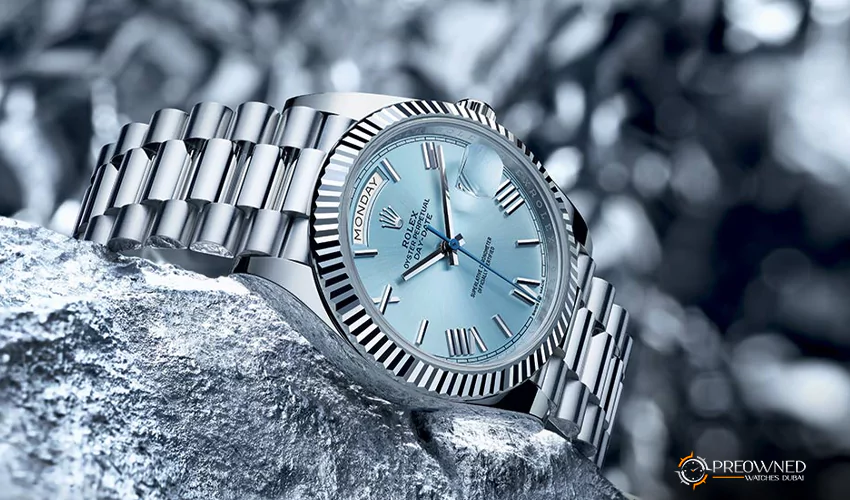 The Rolex Oyster Perpetual is an enduring symbol of luxury and precision. Available in various sizes and vibrant dial colors, this iconic timepiece features Rolex's in-house automatic movement, a robust stainless steel case, and the legendary Oyster bracelet.
The Oyster Perpetual is one of the entry level luxury watches that offer timeless elegance and reliability. When one thinks of which Rolex to buy first, the Oyster Perpetual is the way to go.
Patek Philippe Calatrava
The Patek Philippe Calatrava collection represents the epitome of classic dress watches. With its elegant and understated design, the Calatrava exudes sophistication. The collection features various models, each boasting Patek Philippe's meticulous craftsmanship and exceptional mechanical movements. The Calatrava is an excellent investment for those seeking refined luxury without an incredibly heavy price tag.
Jaeger-LeCoultre Master Control Date
Jaeger-LeCoultre is renowned for its exquisite craftsmanship, and the Master Control Date showcases the brand's watchmaking prowess. With its clean and balanced dial, automatic movement, and stainless steel case, this timepiece embodies elegance and versatility.
With an entry level price tag, the Master Control Date offers individuals a foot into the world of Jaeger-LeCoultre's horological excellence. Once you have gotten yourself the Jaeger-LeCoultre Master Control Date, you can explore the many other exquisite timepieces offered by the brand.
Audemars Piguet Royal Oak Selfwinding
The Audemars Piguet Royal Oak is an icon in the luxury watch industry. Known for its distinctive octagonal bezel and integrated bracelet, this timepiece has become a symbol of luxury and success.
With its self-winding movement, impeccable finishing, and attention to detail, the Royal Oak is an exquisite choice. The Royal Oak collection has entry level luxury watches that are affordable for those looking to splurge on a luxury watch for the first time.
IWC Portugieser Automatic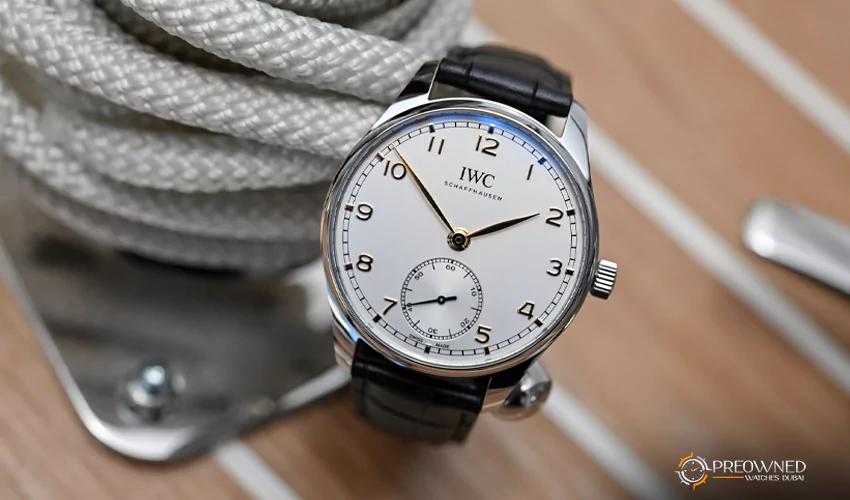 The IWC Portugieser Automatic is a classic and elegant watch that pays tribute to the brand's rich heritage. Featuring a clean dial, a robust automatic movement, and a stainless steel or precious metal case, this timepiece exudes timeless style.
The Portugieser Automatic offers a glimpse into IWC's world of luxury and craftsmanship. It is the oldest and most popular watch from IWC. If you are looking for more options, you can always purchase second hand watches in Dubai and other thriving luxury watch markets.
Vacheron Constantin Fiftysix Self-Winding
With its vintage-inspired design elements and modern sensibilities, this timepiece exudes a unique aura that captures the spirit of the 1950s. The stainless steel case, available in a polished finish, harmoniously blends angular and round shapes, creating a visually striking aesthetic. Powered by Vacheron Constantin's in-house caliber 1326, the automatic movement ensures reliable and precise timekeeping.
When you're looking to invest in a Vacheron Constantin for the first time, this is the perfect watch to get started with.
Cartier Tank Solo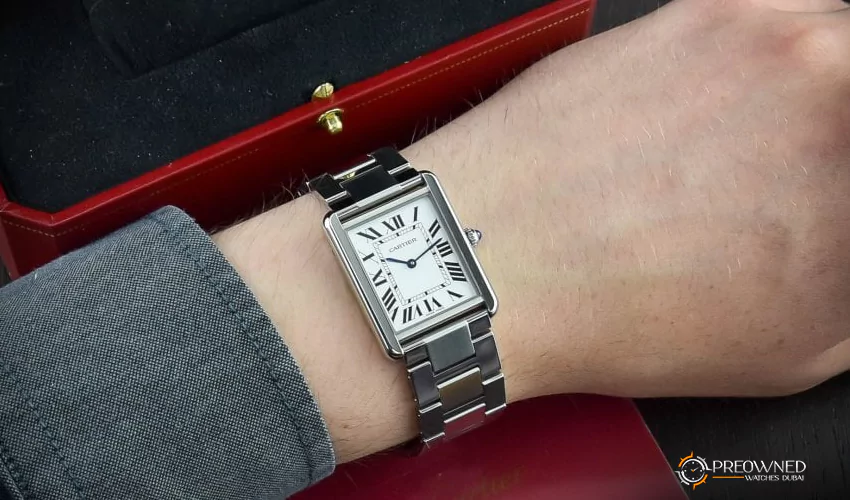 The Cartier Tank Solo is an iconic timepiece that showcases the brand's signature rectangular case and elegant design. With its quartz movement, a choice of steel or gold case, and a selection of leather or metal straps, the Tank Solo is a symbol of timeless sophistication.
With what one can call a modest price tag, this watch epitomizes luxury and refinement. If you're looking for entry level luxury watches, this is a great choice.
Blancpain Fifty Fathoms Bathyscaphe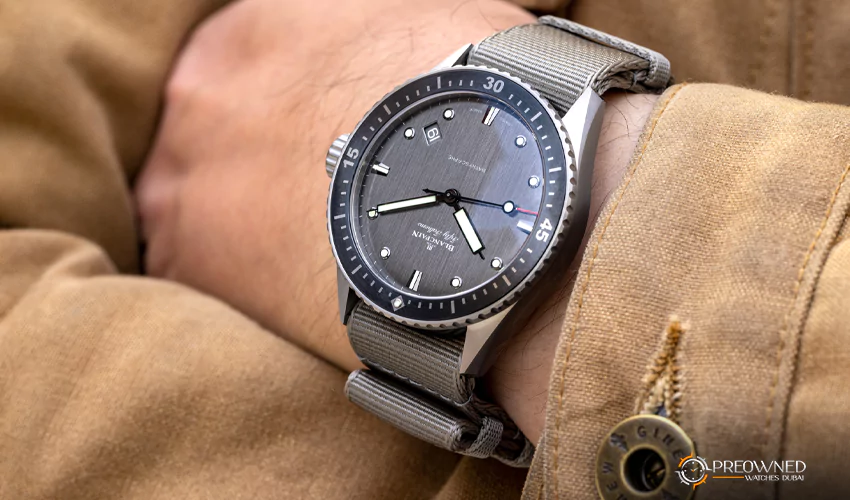 Blancpain is renowned for its exceptional dive watches, and the Fifty Fathoms Bathyscaphe is a true standout. With a modern design, an automatic movement, and a water resistance of 300 meters, this timepiece is both stylish and functional. With its entry level price tag, the watch is considered an excellent fit for an amateur diver.
Breguet Classique
The Breguet Classique collection exemplifies the brand's commitment to timeless elegance and horological expertise. With its signature Breguet hands, engine-turned dials, and meticulous attention to detail, the Classique embodies luxury in its purest form.
You can find watches in the collection at entry level prices if you're looking to make your first purchase. The watch embodies everything luxury and is the wrist candy you've been waiting for.
Get Yourself the Best Entry Level Luxury Watch
Investing in an entry level luxury watch allows you to indulge in the world of opulence and refinement. The top 10 timepieces mentioned above represent the pinnacle of watchmaking, with each brand showcasing its unique blend of craftsmanship and design. Whether you prefer a sporty diver, a classic dress watch, or an iconic timepiece, these entry level luxury watches offer an exquisite combination of elegance and horological excellence. So, choose your style and embrace the luxury that comes with owning a timepiece of unmatched quality and sophistication.