Watch sizes you must know about
As stated earlier, all types of watchmakers, be it Casio or Rolex, offer their customers an array of watch sizes to ensure a comfortable fit. Therefore, if you are looking to get yourself a watch, here is a detailed list of the different sizes available.
Watch Size Chart
Extra Small
20 mm – 32 mm
Small
26 mm – 38 mm
Medium
38 mm – 42 mm
Large
42 mm – 46 mm
If you carefully observe the table mentioned above, you will notice that certain sizes are categorized as small and medium or medium and large as well. This purely depends on the end of user watches.
That is, the watch size for men and women are classified differently. A small case size of a women's watch may not necessarily match the small case size of a men's watch.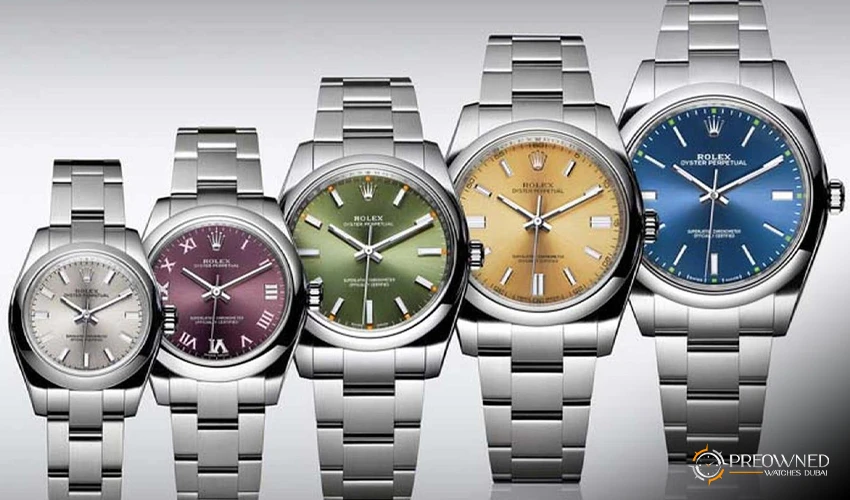 Typically, the watch size of a women's watch is relatively small as compared to men's watches. For instance, a 38 mm watch would be considered a medium sized watch for women. On the other hand, the same size of 38 mm may fall under the category of small case size for men. This is mainly because of the varied wrist sizes.
Watch size chart for men and women
To further elaborate on the different watch sizes available, by focusing on the suitable sizes for men and women, we have illustrated the following:
Watch size guide for men's wrist
Watch size guide wrist female
Watch size guide for men's wrist
In the general, the majority of men have relatively larger wrists as compared to women. Therefore, the sizes of watches available are also proportionally larger. Following are the most suitable watch size for men:
Extra small size: A watch case that starts from 32 mm to 38 mm is considered as an extra small watch in the men's category.
Small case size: Coming to the next category of small watches for men, we have sizes ranging from 38 mm to 42 mm.
Medium size: The most popular category of watches for men come under the medium size range, starting from 42 mm to 44 mm.
Large watch size: Perhaps, if you have got larger wrists and are looking for a watch to suit your wrist, you can buy a watch with its size ranging from 44 mm and 46 mm.
Therefore, these are the varied watch sizes available for men. As mentioned above the most popular category of size lies between 42 and 44 mm, followed by 38 mm and 42 mm watches.
Watch size guide wrist female
As we come to the women's category of watches, the size proportions are relatively smaller. While the case sizes are similar their classification is different from that of men's watches. Here is a list to help understand women's watch sizes.
Extra small women's watch: A watch size that falls between 20 mm and 26 mm is considered as an extra small women's watch. You will find an extensive range of women's preowned watches in Dubai, mostly consisting of vintage watches that come under this size range.
Small women's watch size: If you are someone who is looking for a small women's watch, you are looking for a watch that is between 26 mm and 32 mm.
Medium size women's watch: Watches ranging from 32 mm to 38 mm are considered as a medium sized watches in the women's category.
Large women's watches: Lastly, we have large watches for women. Sizes that come under this category range from 38 mm to 42 mm.
Therefore, based on the watch size guide we have provided above, you must know the size of your wrist and identify which case size suits you the best. Wearing a watch that does not fit you right, is only going to make you uncomfortable and would create an unpleasant outlook as well.
Having said that, the preference of wearing a watch is subjective to client preference. As per observation, a large number of consumers like wearing watches larger than their wrist, mostly consumer watches. Luxury watches on the other hand, are bought to fit perfectly as it adds to elegance of a wearer.
How is watch size measured?
The watch size is determined by measuring the diameter of the watch case, excluding its crown. When you measure the case width, the size is represented in millimeters [mm].
Unisex watch size guide
Unisex watches typically fall within the 36-40mm range, offering a gender-neutral size suitable for both men and women. These watches tend to have a more minimalist and versatile design, catering to a wide range of personal styles.
A watch size guide to help you choose the best timepieces
Selecting the right watch size is crucial for achieving a comfortable and stylish look. By considering factors such as case diameter, wrist size, and personal style, you can find the perfect watch size that enhances your overall appearance.
Whether you're a man or woman, this comprehensive watch size guide will assist you in making an informed decision, ensuring that your timepiece fits perfectly on your wrist.