Rolex is an expensive watch brand, but that does not mean you can't find anything affordable in their store. Sure, their affordable will still be a little expensive for many, but I can guarantee you, that investing money in Rolex will turn out to be the best decision of your life. Let's not waste any time and find out which are these 5 most affordable Rolex watches that you can add to your collection without breaking the bank.
5 Most Affordable Rolex Watches to Add to Your Collection
Recently, Paul Newman's Daytona was being sold for $17.8 million at an auction. This single incident proves that Rolex watches are never a waste, but anyone can skip a heartbeat if they hear this big price on a watch. Experts in our team are constantly on the lookout to find the most affordable Rolex watches for our buyers.
'The main problem that exists in finding a good, affordable Rolex watch is that most of them are discontinued or are not readily available. Fortunately, we're able to help our watch-lovers get their hands on these timeless, authentic pieces through our trusted sources.'
If you're also on the lookout for the best Rolex for investment, then you have come to the right place. The first step is to educate yourself about the Rolex brand and its different models instead of falling for the most popular Rolex watches, which are often not so affordable.
Here are our top five recommendations if you're thinking of buying Rolex under the budget:
Rolex Air-King 14010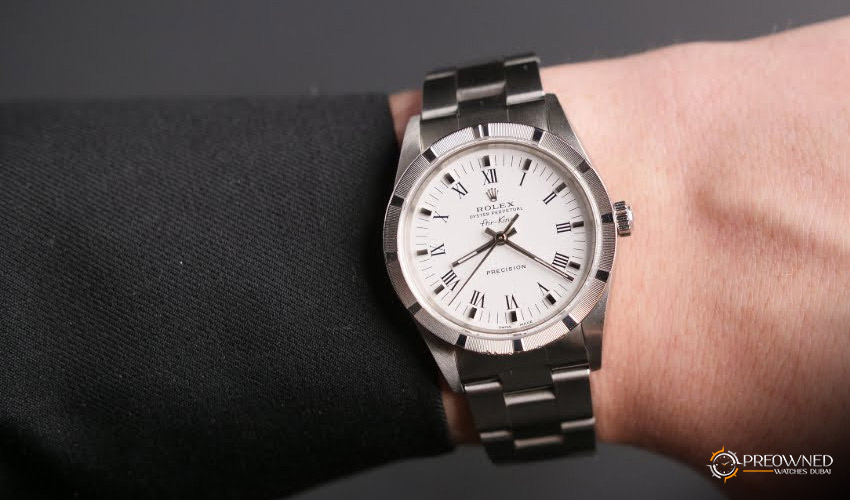 Price: AED 17,000 approx.
Rolex Air-King 14010 is a charming and the simplest Rolex entry-level watch you can find in the market. Its versatile design, sleek hands, minimalistic hour markers, aesthetic blue dial, and stainless-steel Oyster case make it perfect for both men and women.
Every inch of this watch oozes with precision and comfort, making it the best Rolex for investment purposes or if you wish to simply add it to your collection. It's an achievement in itself to own such a classic timepiece from one of the most esteemed luxury brands at such an affordable price.
Rolex Datejust 16234
Price: AED 24,000 approx.
Datejust 16234 is an affordable Rolex dress watch that deserves all the attention. This timepiece works for every season and occasion regardless of what you're wearing or where you're going. The large, 36mm diameter and 18-karat white gold with a salmon dial is enough to get some eyeballs on your wrist.
The Roman numeral hour markers and classic Jubilee bracelet further add to the uniqueness of the watch. What's best is the availability of the Cyclops date window for added convenience. The hour and minute hands are all treated with luminous material, while, the watch offers water resistance at 100 meters.
Rolex Sea-Dweller 16600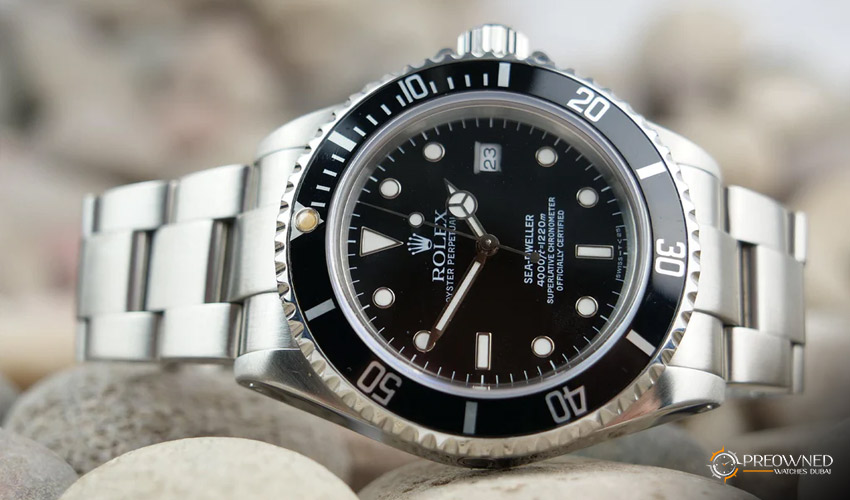 Price: AED 35,000 approx.
Want to try something different in your price range? Opt for a Rolex Sea-Dweller 16600 with a sporty vibe. It's the most affordable Rolex watch, which you can cherish in your collection for years to come. This timepiece is perfect for recreational and professional divers, but that does not put a full stop on its versatility.
This wristwatch is one of the first to feature a helium escape valve, which is operated manually. The timeless and classic appearance of the watch makes it an ideal purchase to adorn on any occasion. In case you're looking for top Rolex watches to add to your collection, then it has to be one of them.
Rolex Oysterdate Precision 6694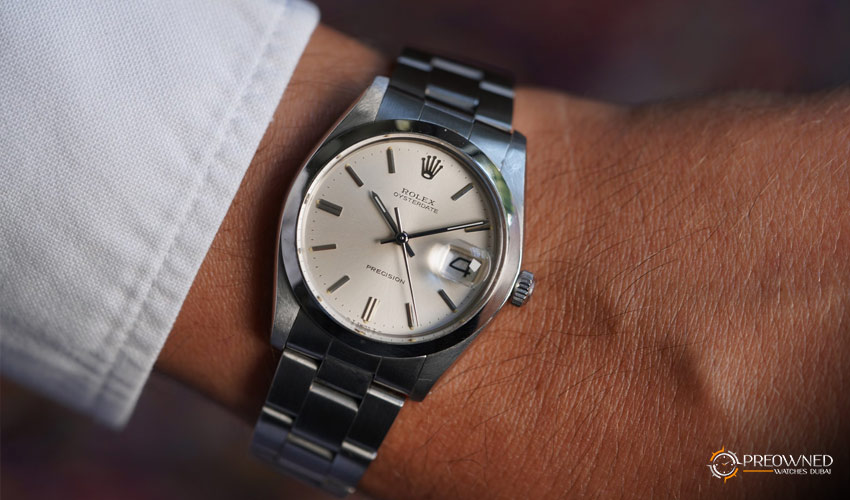 Price: AED 22,000 approx.
The experts in our team love Rolex Oysterdate Precision 6694 for its affordability and versatility. Produced in the 1960s and 1980s, this elegant timepiece has been every Rolex-lover's favorite. Even today, it stands on the top when it comes to getting premium features under your budget.
This timepiece is made up of stainless steel and comes in many different dial options to match your taste. The Oyster bracelet is as smooth as it can get to make sure this watch feels like a breeze of air on your skin. The beautiful design of this timepiece makes it the best Rolex for women as well, so don't up and grab it as soon as you can.
Rolex Explorer 14270
Price: AED 21,000 approx.
The Rolex Explorer line needs no introduction. Thanks to its simple design, it's perfect for every occasion and time. This timepiece has a 36mm Oyster-style case and offers water resistance at 330ft.
Whether you're wearing a suit or a pair of jeans, this wristwatch will uplift your look like no other.  The iconic design of this watch makes checking time a treat for every watch-lover. Coming with legible dials, a 42-hour power reserve, an Oyster bracelet, and a faux three-link bracelet pattern on the clasp, this wristwatch is the perfect luxury accessory to add to your wardrobe right now.
Get Your Hands on the Most Affordable Rolex Watches
Don't let budget come in your way of owning a Rolex watch. Despite it being a luxury brand, there are still some Rolexes that are relatively affordable. But beware; there are many resellers who can't be trusted when it comes to purchasing luxury watches. This is why you need a trusted source like us to get your hands on these luxury timepieces. Don't think twice and make the investment today to get a hold of this luxury item!